Face-to-Face Counselling in Brighton and Online. Qualified, Experienced, BACP Accredited.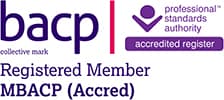 Practice Hours:
Mon – Fri 09:00 – 18:00 | Sat & Sun: Closed
About Me
I am an experienced Psychotherapeutic Counsellor. I provide a warm, reliable and creative service to all my clients, and never cease to be humbled and inspired by those I work with and their individual life stories. I am interested in your life, your thoughts, feelings and behaviours – and what is and is not working for you. I believe therapy enriches our lives. Through our explorations, we can increase your self-awareness to affect meaningful change. Sessions are in person in central Brighton, or online.
My approach is Integrative, non-judgmental and collaborative: we agree to find a way of working together that suits your individual personality and needs. Predominantly, I draw on the theories of Carl Rogers (Person-Centred Therapy), Carl Jung (Analytic Psychology) and Eugene Gendlin (Focusing) in order to build trust in our relationship and then sensitively draw attention to unconscious processes and bodily sensations to promote awareness towards personal wellness. I may suggest incorporating active practices in session, for those it suits, such as mindfulness or use of a sand-tray. If psychosexual concerns are the focus of our work, we may discuss techniques and exercises that promote increased sexual health.
My practice is sex-positive and kink positive, informed by up-to-date clinical knowledge in this area. GSRD (gender, sexual and relationship diversity) affirmative.
I offer a safe, confidential space to individual clients aged 18+.
Training
Post-Grad Professional Certificate in Psychosexual Therapy (CICS 2022 – ongoing)
BA(Hons) Humanistic Counselling (University of Chichester, BACP Gold Star Accredited Course 2018-2020)
Diploma in Integrative Therapeutic Counselling (Cara Counselling, Worthing 2015-2017)
L3 Certificate Counselling Studies (CPCAB, Brighton 2015)
L2 Certificate Counselling Skills (CPCAB, Brighton 2014)
+
How can counselling help?
Counselling is a supportive talking therapy, focussing on nurturing the client's unique sense of self to promote increased emotional and mental wellbeing.
You may be experiencing difficult life circumstances, relationship problems, feeling stuck in old patterns, struggling after a traumatic event, wanting to cope better with everyday stresses, or hoping to understand yourself better at a deep level. Perhaps you don't yet know fully why you are considering counselling, and would like to explore this further with a kind and trusted professional. You are welcome here.
The counselling process offers you a way forward through personal growth and self-awareness. The counselling relationship provides a safe, confidential space in which you can unburden yourself and explore your emotional needs. Here, you will be respected as an individual, accepted without judgement, and encouraged as you move towards your personal goals in therapy.
There are many different theories behind and approaches to counselling. At our initial consultation I will discuss with you how I can tailor my approach to meet your needs and best help you feel comfortable to begin the process of change with me.
Client Issues
I have experience working with the following specific issues / experiences, but the list is not exhaustive, so please feel free to contact me and enquire if you do not see your experience below:
Anxiety, Abuse, Anger management issues, Addiction, Bereavement and loss, Body dysmorphia, Compulsive Behaviours, Culture shock, Confidence, Depression, Drug and alcohol dependency, Eating disorders, Existential crisis, Fibromyalgia, Issues relating to gender identity, Lack of meaning, Loneliness, Low self-esteem, Narcissistic Abuse, Porn addiction, Post-Traumatic Stress, Problems at work, Rape and sexual abuse, Relationship / marriage issues, Religious / spiritual crisis, Self-harm, Sexual problems, Sexual identity issues, Shame, Stress.
Fees & Availability
Initial consultation for individuals aged 18+: £60 per 50 mins
Weekly appointment fee: £60 per 50mins
Appointments take place at the same time each week, either online via Zoom, or face-to-face at:
New Road Psychotherapy Centre
28 New Road
Brighton
BN1 1UG
Please contact me via the website contact form for further enquiries / to book an initial appointment, stating when you are available, and I will get back to you shortly.
"After a long period of being unable to work due to my anxiety, you helped me find the strength and confidence to get out into the world again."
"Even though it was hard at times, I felt you were always there with me on my road to recovery."
"Rachel showed me that I am worth listening to. She was patient and kind to me when I was too sad to speak about the loss of my beloved dad and she was a constant presence I could rely on when the rest of my family were too busy in their own grief to share in mine with me. I would recommend her to anyone who is suffering the pain of loss or loneliness."
"I never imagined there would be times in therapy where we would laugh together."
"As a man in my forties I felt a bit silly drawing pictures in the sand-tray at first, but with your encouragement, I kept going. Eventually, I realised that what I was drawing represented the things I found too difficult to speak about. Once my story was there in front of me I felt I had given myself permission to let go of the shame that was holding me back in my life. It is an ongoing process but things are getting easier. Thank you."